4 Wheel Rollators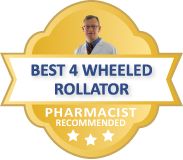 I recommend this rollator because of its unique ability to adjust the seat height so you can get a "perfect fit." Other rollators come in fixed seat heights – standard or junior, and allow you to only adjust the handle height. This product allows you to do both. You can easily adjust this rollator's seat in 1 inch increments to fit your body… READ MORE
The padded seat and backrest provide a comfortable ride and the waterproof cloth under-seat carry pouch is lightweight, durable and folds up with the rollator (unlike a traditional wire basket). The backrest can be removed, left up or folded down-depending on how you are currently using it.
At only 14 pounds, it is one of the lightest rollators on the market and folds up to easily fit into the trunk or back seat. The overall width of 24 inches allows it to easily fit through the standard 30 inch doorway. The brakes are easily locked at the handles, eliminating the need to bend over and lock at the wheels like other rollators. This economically priced rollator offers more user-friendly features than more expensive models and is a great buy.
---
Drive Adjustable Seat Height Rollator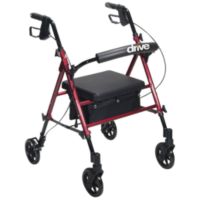 Height adjustments: Seat height: 18"-22", Handles: 29.5"-38"
Includes seamless padded seat and zippered carry pouch
Loop-lock brakes
Removable, hinged, padded backrest
Our Price: $99.00

A 4 wheeled rollator provides more support and added mobility than a wheeled walker or a walker without wheels. Many 4 wheeled rollator walkers feature a padded seat not only for added comfort, but also to provide a spot to rest nearly anywhere you go, making them more versatile than regular 2 wheeled walkers.Read More
Sometimes, rollators may seem clunky or unattractive to they eye; and the rollators that look good often lack the features you require. One drive rollator, the Drive Nitro Rollator, solves this issue as it beautifully combines both an appealing design with functionality. This 4 wheel rollator already includes popular rollator accessories like a rollator pouch to help you hold things and 10" wheels to help you get around.