Rolling Walkers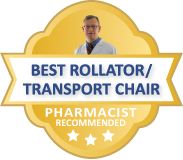 This Rollator/Transport Chair is my pick because it is so easy to change from a walk-behind rollator to a comfortable chair that can be pushed. The footrests are stored in the easy-to-reach pouch so they are handy when you need them, but out of the way when you use the chair as a rolling walker. The popular… READ MORE
carrying bag is perfect for travel or storage and makes this 22 inch chair very portable. The larger, fabric sling-seat and back allow a comfortable ride and make it easy to collapse for fitting in the trunk. This product eliminates the need for both a walker and a wheelchair and comes in a turquoise blue or titanium color.
---
Lumex HybridLX Rollator/Transport Chair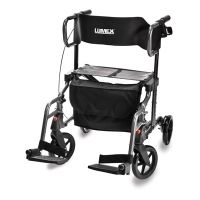 Approximate user height: 5'4"-6'2"
Height adjustments: 30"-37"
Durable, lightweight aluminum frame
Footrests can be stored in pouch
Our Price: $189.00

Rolling walkers, otherwise known as rollators, are walkers with a wheel on the bottom of every leg. When choosing a rollator, some considerations may be the product's width, weight capacity, color, wheel size, and number of wheels. Read More
Four-wheel rollators are great for added stability and greater mobility. Many rollators have a seat and backrest for added comfort and safety while relaxing. Our selection of combination rollator/transport chairs give you the ability to walk with a traditional rollator, or to sit and be pushed. Three-wheel rollators offer greater mobility and a shorter turning radius for use in tight spaces.
We offer a wide variety of weight capacities in rolling walkers from junior size rollators to heavy duty rollators which support more then 350 pounds. We also carry a full selection of rollator accessories such as specialty bags, baskets and trays.