Rolling Walkers
Drive Adjustable Seat Height Rollator
"I recommend this rollator because of its unique ability to adjust the seat height so you can get a "perfect fit."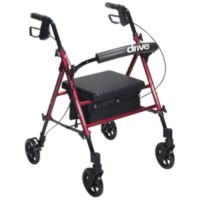 Height adjustments: Seat height: 18"-22", Handles: 29.5"-38"
Includes seamless padded seat and zippered carry pouch
Loop-lock brakes
Removable, hinged, padded backrest
Our Price: $99.00

Rolling walkers, otherwise known as rollators, are walkers with a wheel on the bottom of every leg. When choosing a rollator, some considerations may be the product's width, weight capacity, color, wheel size, and number of wheels. Read More
Four-wheel rollators are great for added stability and greater mobility. Many rollators have a seat and backrest for added comfort and safety while relaxing. Our selection of combination rollator/transport chairs give you the ability to walk with a traditional rollator, or to sit and be pushed. Three-wheel rollators offer greater mobility and a shorter turning radius for use in tight spaces.
We offer a wide variety of weight capacities in rolling walkers from junior size rollators to heavy duty rollators which support more then 350 pounds. We also carry a full selection of rollator accessories such as specialty bags, baskets and trays.