Standard Crutches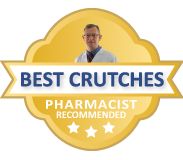 I recommend Millennial crutches over traditional crutches for two reasons. First, they are ergonomically designed to take the stress out of your neck, shoulders and armpits and secondly, they feature a shock absorbing/power assist feature, which increases your mobility speed by 10%. The ergonomic handgrips are designed at an angle to reduce wrist strain and help the … READ MORE
hands stay securely in place. These popular crutches fold to nearly half their length, which makes them perfect for travel (even fitting in airplane overhead bins). These comfortable and easy-to-use crutches are especially useful if you anticipate needing crutches for a prolonged period of time. They enable you to move quickly to carry out your normal activities.
---
Millennial In-Motion Pro Crutches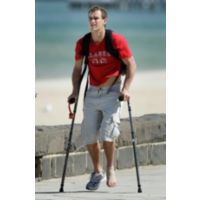 Spring-assisted articulating crutch tips
Convenient folding ability
Sleek, minimal design
Weighs: 2.5 lbs. per crutch
Weight capacity: 500 lbs.
Our Price: $109.99

Crutches provide economical mobility in a lightweight package. These walking crutches come in various materials ranging from simple wooden crutches to aluminum crutches. All the walking crutches we carry on JustWalkers.com come in various sizes, or have locking height adjustments, to provide you with the best fit possible. Just check out the size chart under each product's "Details" tab to see how to measure yourself and pick the best fitting walking crutches.Read More
Our most durable crutches are the millennial crutches, which are made from aircraft grade aluminum so you know they will last. We offer two types of walking crutches from Millennial: folding crutches and pro crutches. The folding crutches from Millennial fold up neatly for easy storage, while the pro crutches have spring assistance technology that makes them the most comfortable form of walking crutches available.