Transport Wheelchairs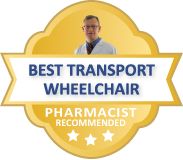 I recommend this economical transport wheelchair to anyone needing something for light to moderate use. This wheelchair is perfect for someone who usually uses a walker, but needs some help from a caregiver for longer trips. The back folds down, which makes it smaller and easier to fit in nearly any trunk. It weighs only 19 pounds, but is … READ MORE
sturdy enough to transport a person weighing 300 pounds. The 8 inch wheels make for a comfortable and smooth ride, indoors or out. Swing away foot rests, brakes on the back wheels and a seat belt provide a safe ride. Available in black, blue, red or silver, and in two widths, it offers features not usually found at this price.
---
Drive Aluminum Transport Chair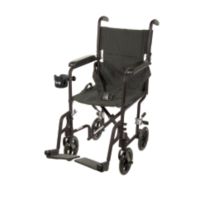 Tool-free, height adjustable, swing-away footrests
8" casters in the front and rear, with aluminum locks on back wheels
Removable, replaceable, water-resistant cover
Our Price: $119.00

Heavy duty carbon steel frame includes dual cross brace and gusseted side frames
Flame-retardant black nylon upholstery
Footrests include aluminum footplate for additional durability
Features removable desk arms, fold-down back, and integrated hand brake
12" rear wheels and 8" front casters
Weighs: 41 lbs.
Weight capacity: 400 lbs.

This transport chair has padded, removable armrests and adjustable leg supports for more comfort and customization
Two push-to-lock rear wheel brakes keep the wheelchair in place for better safety
The 12 inch rear wheels increase the chair's maneuverability, making it suitable for indoor and outdoor use
Weighs: 45 lbs.
Weight capacity: 450 lbs.
This kit also includes 2 great accessories: the Universal Cup Holder and Drive Wheelchair Carry Pouch
By purchasing as a kit you save $14.90 on these items! (Purchased separately these items would cost a total of
Transport wheelchairs differ from regular wheelchairs in that they are usually lighter and require another person to push you, since they lack the large wheels found on manual wheelchairs. Transport wheelchairs are also more portable than manual wheelchairs because of how they fold up. Some transport wheelchairs, like the Drive Travelite, fold up into its own bag for added convenience.Read More
Our most cost-effective wheelchair is the Drive Economy Transport Chair that has in 2 different seat widths for you to choose from. It has a sturdy weight capacity of 250 pounds, plus swing away footrests, and four 8" caster wheels to help you get around comfortably. And, this folding transport chair fits neatly into a car or other vehicle for easy transport with you wherever you go!