Transport Chair/Rollators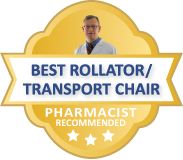 This Rollator/Transport Chair is my pick because it is so easy to change from a walk-behind rollator to a comfortable chair that can be pushed. The footrests are stored in the easy-to-reach pouch so they are handy when you need them, but out of the way when you use the chair as a rolling walker. The popular… READ MORE
carrying bag is perfect for travel or storage and makes this 22 inch chair very portable. The larger, fabric sling-seat and back allow a comfortable ride and make it easy to collapse for fitting in the trunk. This product eliminates the need for both a walker and a wheelchair and comes in a turquoise blue or titanium color.
---
Lumex HybridLX Rollator/Transport Chair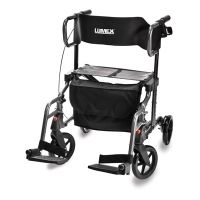 Approximate user height: 5'4"-6'2"
Height adjustments: 30"-37"
Durable, lightweight aluminum frame
Footrests can be stored in pouch
Our Price: $189.00

Rollator transport chairs double as both a rollator and transport chair, and require assistance from someone else if you plan on sitting instead of walking. Rollator transport chairs are great for travel and long trips due to their light weight and portability since they can easily foldup and fit into vehicles for easy transport. All of the rollator transport chairs have backrests for increased comfort.Read More
One of our most popular rollator transport chairs on JustWalkers.com is the Drive Duet Transport Chair Rollator. Weighing in at only 19 pounds, this rollator transport chair features an under-seat pouch to store your personal items, and also has large 8" caster wheels so you can use it indoors and out. And, this rollator transport chair works for users as tall as 6 feet, and is available in 3 colors to provide you with your own color scheme.