Wheeled Walkers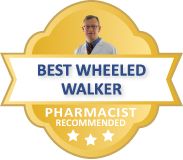 I recommend this walker with front wheels because it is the only one that has a flip-up seat and backrest. Simply flip the seat up when you don't need it so you can easily walk within the frame of the walker. When you're ready to rest, flip the seat down. The 5 inch… READ MORE
front wheels are set in a forward fixed position. The rear glides feature internal push down brakes, which will automatically engage when you stumble or sit down, keeping you safe but still allowing you to easily push the walker. The large, easy to use levers make folding this 16 pound walker a breeze.
---
Drive LS Clever-Lite 5" Wheeled Walker
Height adjustments: 32"-40"
5" fixed front wheels
Rear glide push down brakes
Flip-up seat comes with built in carry handle and flexible backrest
Easily folds with dual lever side paddle releases
Our Price: $99.00

Wheeled walkers are a fantastic blend of stability and convenience. They retain much of the standard walker's strength while adding the smooth gliding motion of wheels. Easier to use than the standard walker, a wheeled walker is ideal for indoor use. When considering wheeled walkers, you should think about all the same factors you might with standard walkers, but also consider the number and size of wheels and the type of glides used on the non-wheeled walker legs. Read More
Wheeled walkers come with two, three, or four wheels. Two wheeled walkers offer a great combination of stability and mobility. They are easy to move and at no risk of rolling away. Three and four wheeled walkers are often called 'rollators' and can get very elaborate. If you are looking at a walker with more than two wheels, be certain you are comfortable with the braking system it uses.
The size of the walker's wheels is directly related to its stability and ease of movement. Larger wheels can handle uneven surfaces and small obstacles very well, while smaller wheels are suited mainly for the indoors. If you plan to use your four wheeled walker outside, be sure to get one with large wheels.
Walker legs usually come with nonskid rubber tips for stability, but wheeled walkers work best when they can glide smoothly over surfaces. Non-wheeled legs of a two-wheeled walker should be outfitted with smooth plastic glides. These come in many styles to suit different needs.
Wheeled walkers are a great compromise between safety and mobility. Consider your needs as you look over our selection, and you will be certain to be pleased with your new mobility aid.