Walker Baskets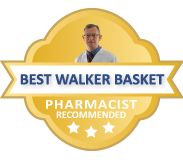 I recommend this inexpensive but durable wire walker basket to help carry your belongings when using your walker. This basket is easily hooked into place and stays securely fastened to the legs as well as the top of the walker. The included plastic tray prevents small objects, like keys or cell phones, from falling out. … READ MORE
It also features a cup holder to hold your drink upright. It can stay in place when the walker is folded or be easily removed when your walker is transported.
---
Drive Walker Basket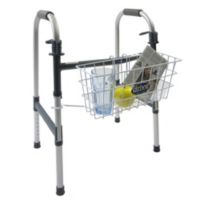 Wire walker basket with plastic insert to keep things from falling through
Dimensions: 16.5" L x 5.5" W x 7" H
Uses 3 metal hooks to keep basket securely in place
Capable of staying attached to your walker when folded
Our Price: $18.95

Want to carry your personal items with you at all times, but don't want to deal with a cumbersome bag or purse? Now you can! Walker baskets are fantastic solutions which allow you to carry a wide variety of belongings without hindering the operation of your walker. Baskets for walkers often come with covers for privacy or inserted trays for added stability. Attach a walker basket to your mobility aid, and do away with troublesome inconvenience!