Cup Holders
I recommend this inexpensive, but versatile cup holder because it adjusts to hold any sized cup, can or bottle. It attaches simply to any 7/8" or 1" frame with only 3 screws. It folds up flat when not being used so it does not stick out and get bumped when moving through doorways. This top seller is a must-have for walker or rollator users.
---
Nova Flip-Up Cup Holder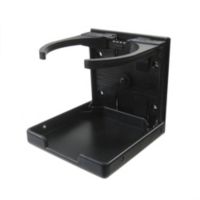 Adjusts to hold different sized drinks
Folds up when not in use to save space
Fits any 7/8" or 1" frame using only 3 screws
Does not add extra width to you walker or rollator
Our Price: $16.95

Using a walker means having your hands full whenever you want to take a step, and that can lead to major inconveniences. Add a clip-on cup holder to your walker's frame to fix one of those inconveniences instantly. Walker cup holders are strong, secure accessories that make your life infinitely easier. Be sure to check your selection for a mug cut-out if you like to take your coffee or tea on the go.