Standard Walkers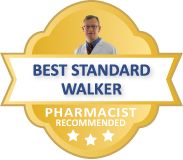 I recommend this unique walker because it has two built-in handle heights. The lower handle aids you in getting out of a chair or standing up from the toilet. Once you're in a standing position, simply move your hands to the higher handle and move forward. This walker is lightweight and simple to put together.… READ MORE
The single release folding mechanism is in the middle of the top handle, which makes it easy to fold it up for travel or storage.
---
Graham-Field Onyx Uprise All-in-One Walker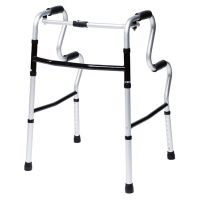 Approximate user height: 5'4"-6'2"
Height adjustments: 32"-39"
Shape helps you stand up from a chair with ease
Weighs only 5.5 pounds!
Can be used as a portable toilet safety frame
Our Price: $56.00

Standard walkers are the most stable type of walker available. These mobility aids are sturdy metal frames that provide solid support for those who may need assistance walking due to lack of balance or strength. When looking at non-wheeled walkers, it is important to consider the height, folding style, and handgrip style of the walker. A walker will be used on a regular basis, so comfort is an essential element to consider. Read More
Standard walkers are fine for users of average height, but the especially tall or short will want to look at petite or heavy duty walkers instead. Check the 'approximate user height' specification to be certain a walker will fit. The height adjustments range specifies the height range the walker's legs can be set to. Be sure as well to check the weight capacity of any walker.
All of our standard walkers fold for easy transport and storage. The legs need to be released in order to fold, and the design of the release mechanism can be an important element to consider. A single button release mechanism can be easier to trigger and release, but a dual release allows users with limited dexterity to keep their hands on the walker as they fold it and often features larger, easier to use buttons and levers.
Handgrips are another important consideration. Thin padding on a walker's handles can make it hard to hold, lift, and carry. Durable foam padding, comfortable grip molding, and good placement are highly desirable features of walker handgrips. Remember, you can always add more padding, such as gel or sheep skin, if needed.
Choosing a walker is about convenience, comfort, and utility. Look for the right mix of features to suit your needs, and your walker will greatly improve your independence and safety.