Rollator/Transport Chairs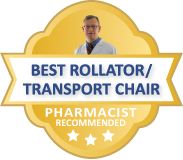 This Rollator/Transport Chair is my pick because it is so easy to change from a walk-behind rollator to a comfortable chair that can be pushed. The footrests are stored in the easy-to-reach pouch so they are handy when you need them, but out of the way when you use the chair as a rolling walker. The popular… READ MORE
carrying bag is perfect for travel or storage and makes this 22 inch chair very portable. The larger, fabric sling-seat and back allow a comfortable ride and make it easy to collapse for fitting in the trunk. This product eliminates the need for both a walker and a wheelchair and comes in a turquoise blue or titanium color.
---
Lumex HybridLX Rollator/Transport Chair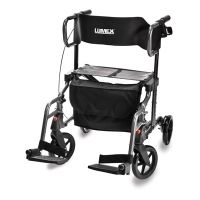 Approximate user height: 5'4"-6'2"
Height adjustments: 30"-37"
Durable, lightweight aluminum frame
Footrests can be stored in pouch
Our Price: $189.00

A rollator transport chair brilliantly combines both the independence of a rollator with the comfort of a wheelchair. All transport chairs have 4 wheels just like 4 wheel rollators, plus they all also feature a padded seat with a backrest for added comfort and to enable you to be rolled (just like a wheelchair) by someone else. Many transport chairs, like the Lumex HybridLX rollator/transport chair, have footrests for increased comfort while you're being transported. All of these rollator transport chairs have either a bag or a rollator basket already included to provide you with added convenience.