3 Wheel Rollators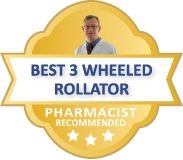 This 3 Wheel Rollator is my top choice because of all the included carrying options. Walking, while carrying a tray or your possessions, is a breeze with this easy-to-use 3 Wheel rollator. A tray, large wire basket and waterproof cloth pouch are all included and can be used separately or at the same time. The attached tray is perfect for carrying meals or drinks and the basket allows you to carry larger bulky items with ease… READ MORE
The large 8 inch wheels and 25 inch width provide stability indoors and out and allow easy passage through typical 28 inch bathroom door openings. As you fold this rollator to move it out of the way in restaurants or hallways, it remains upright so you can leave one hand firmly in place for support while you are getting ready to sit down. Available in red or blue, with height adjustable handles, it's an attractive way to walk with comfortable support.
---
Drive Deluxe 3 Wheel Aluminum Rollator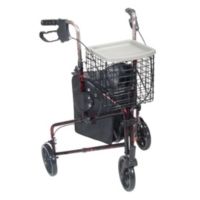 Includes basket, tray and pouch
Large 8" wheels for indoor and outdoor use
Folds easily for transport and storage
Available in two stylish colors
Our Price: $89.00

A 3 wheel rollator features a triangular frame that creates a lot of support within a space that's narrower than most 4 wheeled rollators. All of the 3 wheeled rollators featured here on JustWalkers.com have either a rollator basket or a rollator tray as an added rollator accessory. Read More
One of the Invacare rollators, the Value-Line Aluminum three wheel Rollator, has both rollator accessories for added convenience. All of these 3 wheeled rollators also feature handbrakes for better control of the rollator, and increased safety while walking downhill.
If you're looking for a lightweight rollator, look no further than this drive rollator: the Winnie Lite Supreme 3 wheel aluminum rollator. This 3 wheel rollator only weighs 13 pounds due to its aluminum frame, but it's still has a weight capacity of 300 pounds! And, as one of our highest rated 3 wheeled rollators, you know you're getting a quality product when you purchase the Winnie Lite.