Heavy Duty Walkers
This Heavy Duty Walker supports up to 500 pounds and has the added benefit of front wheels that roll easily along. Instead of picking up this walker with each step, simply push it in the direction you want to go. This sturdy frame features 21 inches between the handles, which is 4 inches more than regular walkers, and perfect for larger users.… READ MORE
These features make it our most popular Heavy Duty Walker.
---
Medline Extra-Wide Two-Button Heavy Duty Wheeled Walker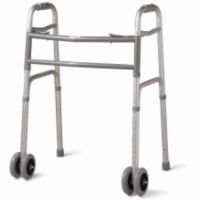 Height adjustments: 30"-43"
Folds to narrow 4.5" width for easy storage and transportation
Dual wheels provide better mobility and security
Weight capacity: 500 lbs.
Our Price: $97.00

A heavy duty walker is a mobility aid designed to support more weight than a regular walker, and is often times wider than regular adult walkers. Heavy duty walkers are typically made of steel rather than the aluminum that usually makes up standard walkers. But using steel instead of aluminum increases the overall weight of the walker, which may be a problem for you. If you're looking for the lightest of these bariatric adult walkers, check out the Invacare Heavy Duty Dual Release Walker, as it is a best seller and weighs only 7 pounds!Read More
Bariatric walkers are still capable of being outfitted with all the same various walker accessories as a regular walker, so be sure to add a walker accessory to your order to make your new walker your own.