Heavy Duty Rollators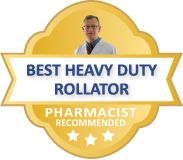 I recommend our least expensive heavy duty rollator, which features the largest width between the handles to accommodate users of all sizes. A hefty weight capacity of 500 pounds, reinforced steel frame, 18 inch wide seat and easy-rolling 8 inch wheels make this rollator very easy to use. Like all heavy duty rollators, it requires a doorway width of 32 inches.
---
Drive Go-Lite Bariatric Steel Rollator
Approximate user height: 5'8"-6'8"
Height adjustments: 34"-39"
Strong reinforced steel frame
Large, removable basket
Soft, padded, oversized seat with removable backrest
Our Price: $149.00

Heavy duty rollators have been made to have a higher weight capacity than regular adult rollators. All heavy duty rollators also come with a padded backrest for increased comfort and support when you decide to sit on your rollator. While all of these rollators listed here also come with a basket underneath the rollator's seat, you should consider purchasing other rollator accessories such as a rollator cup holder or rollator bag. Rollator bags are especially helpful as many, like the Nova Hanging Rollator Pouch, can be zippered closed to protect whatever you've put in there.
If you're looking to purchase an extra-wide rollator, look at the Lumex Walkabout Imperial Bariatric Rollator as it has the widest of any seat available on JustWalkers.com. This Lumex rollator also weighs the least of all the heavy duty rollators listed here.