Bariatric Crutches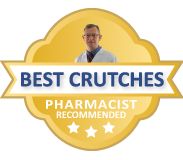 I recommend Millennial crutches over traditional crutches for two reasons. First, they are ergonomically designed to take the stress out of your neck, shoulders and armpits and secondly, they feature a shock absorbing/power assist feature, which increases your mobility speed by 10%. The ergonomic handgrips are designed at an angle to reduce wrist strain and help the … READ MORE
hands stay securely in place. These popular crutches fold to nearly half their length, which makes them perfect for travel (even fitting in airplane overhead bins). These comfortable and easy-to-use crutches are especially useful if you anticipate needing crutches for a prolonged period of time. They enable you to move quickly to carry out your normal activities.
---
Millennial In-Motion Pro Crutches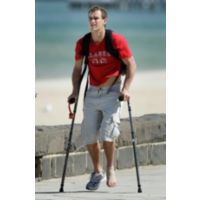 Spring-assisted articulating crutch tips
Convenient folding ability
Sleek, minimal design
Weighs: 2.5 lbs. per crutch
Weight capacity: 500 lbs.
Our Price: $109.99

Heavy duty crutches provide you with the most support of any style of walking crutches. We currently offer 2 different sets of heavy duty crutches, a pair of Graham-Field Crutches and a pair of Medline Crutches. The bariatric crutches from Medline offers the most in terms of weight capacity at 650 pounds, and also comes in 2 sizes to help you find the perfect fit. Both products have size charts on their respective pages, so be sure to check which size is right for you before making a purchase.